Ever wonder what bloggers are saying about your company or product? Why wonder? Use Google alerts.
Once again Google has come out with a must have business tool. Use Google alerts to get industry news including news and information regarding your competition. Google alerts can inform you based on your 'key words'.
Let pretend for example: you own Johnny's Chop Shop, a steak and chop restaurant featuring the 27 oz Man Eater Steak.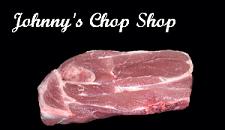 Your competition is Joey's Black Angus Barn. You are concerned that beer and beef prices are going to go up and you want to be prepared for any food or beverage cost increase. You want to keep track of trends in restaurants and entertainment.
Here are some search terms for Google Alerts, that I would use if I owned Johnny's Chop Shop:
"Johnny's Chop Shop"
"27 oz Man Eater Steak"
"Joey's Black Angus Barn"
cattle
beef
beer
"restaurant industry"
"bar industry"
With these and other key words, Johnny can keep an eye on what bloggers say about his restaurant, keep up to date on restaurant industry news, track website results and get ideas for your company blog or website.