More than 50 people from the United States, Canada and the UK attended this years ITRA conference in Orlando, Florida this year.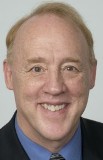 The event's keynote speaker was Corbin Ball, an international technology advisor with 20 years experience running meetings. Corbin asks, "What's happening with technology and how will it directly affect me? "
Photo: Corbin Ball, Keynote Speaker
The answer took us down a high tech path of wikis, web 2.0, microblogging, radio frequency ID tags, virtural meetings, conference and trade shows.
Corbin's talk left most attendees overwhelmed with new ideas and information.
The board put together an excellent conference.
ITRA Board Members are in the photo (Left to Right): Wayne Springer, John Carnahan, Dan Kallen, Steve Shatsoff, Dave Veeder, Tom Hornyak, and Dennis Pugh.
Also vendors from HP, Samsung and others were at the trade show displaying the latest Tablet PCs, high tech printers and Video Walls.
Some of the people in attendance included:
Abcom Computer Rentals – Sonny Goyal
ABS Computer Rentals – Erik and Erika Wainiopaa
AC Technology, Inc. – Kathy Schultz
Atiwa Computing, Inc. – Wayne and DeDe Springer
Atlantix Global Systems – Tanya Adams and Sean Hutcheson
BMS Computer Rentals – Jerry and Chris Thompson
Computer Rentals, Etc. – Cuyler Tremayne, Rhonda Simien, Milko Figueroa
Computer Rental Systems – John Carnahan
Desktop Visual Products, Inc. – Rick Frandsen
DE Systems Ltd. – Dave Dugas
Hartford Computer Rental Co. – Dan Kallen
Hire Intelligence International Ltd. – Chris Hutber
Mac Rentals – Larry Langbort
MCR Integrated Technologies – Steve and Dena Mangum
MCR Rental Solutions – Dennis Pugh and Jack Brown
Meeting Tomorrow Audio Visual – Bill Powers
Computer Rent – Dave Wood
Micro Rental Service – Tom and Carol Hornyak
MicroStar – Doug Turner
PC Consultants of SW Michigan – Dick and Juanita Kohfeldt
RentAComputer.com – John and Susan Beagle, Darcy and John Mann
Rentfusion – Amit Parekh, Rhonwyn Godwin, Radha Singh
SmartSource – Steve Shatsoff, Julian Sandler, Niraj Jain, Robert and Jennifer Kastner
Rentsys – Laura Polasek and Chad Frank
Rush Computer Rentals – Electrorent – Dennis Clark, Craig Burgi, Rojer Bishop
Smart Computer Services – Robert Lowry and Will Lowry
Technology Rentals of America – Dave Veeder
Vernon Computer Source – Anthony C. Randazzo
We had 2 digital cameras provided by Meetings Tomorrow. A video is being put together that includes a brief introduction from many of the people mentioned above.
Many ITRA members are also members of the Tech Army Organization. All ITRA members have worked with Rentacomputer.com.
I have to say it is wonderful to have friends all over the world. Also thanks to Chad Frank from Rentsys, who played golf with me at Falcons Fire golf course near the convention.