Recently I had the pleasure of the Golden Gate Bridge Bike Tour via the San Francisco Bay Trail, the Battery East Trail, Mill Valley Sausalito Path and numerous roads.
According to the American Society of Civil Engineers there are only 7 wonders of the Modern World, the Golden Gate Bridge is one of them. Other great wonders include the Chunnel (Channel Tunnel), the Empire State Building, the CN Tower, Itaipu Dam, Netherlands North Sea Protection Works and the Panama Canal.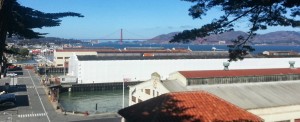 Photo: View of the Golden Gate bridge from first hill climb at Fort Mason.
There were 2 of us on the windy, 21 mile, spectacular view, bicycle ride. Our bikes were all carbon fibre road bikes made by Specialized.
The route was primarily paved and mixed use, people and bikes. However in Sausalito we did encounter mixed auto and bike path traffic. The hill climbs and the auto traffic in Sausalito is too challenging for the inexperienced and young children. The weather was beautiful, sunny yet windy with gusts up to 20+ mph.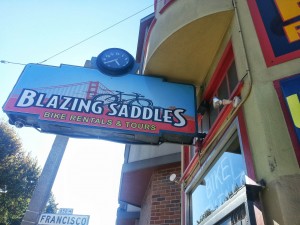 We rented our bikes from Blazing Saddles located in North Beach, they are located on the corner of Columbus Ave and Francisco St. This is their main hub for our high end road and mountain bikes (Tel. 415.202.8888. The bike mechanics adjusted seats, installed special pedals and made us take a test ride before we took off on our trip. I have to say the service was excellent and the shop was well equipped.
We started our trip at the bike shop and rode to the 'official' start point on the San Francisco Bay Trail, near Fort Mason, the San Francisco Maritime National Historical Park and the Herbst Pavilion. It was at Fort Mason where we encountered a significant climb in elevation.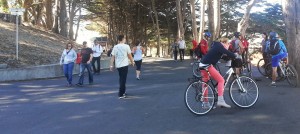 Photo: Top of first hill climb at Battery St.
We rode along the shoreline for few miles along Crissy Field then by the University of San Francisco Presidio Campus. Continuing on to Fort Point, a Civil War era brick fort. It lies at the southern end of the bridge and is open for tours.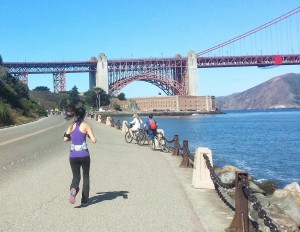 Note: You are unable to bring your bike on the Fort Point Tour. We turned 360 degrees around from the fort to start the second significant uphill climb on Long Avenue and the Battery East Trail. Since it was a weekend, we were to take the west lane. Weekdays daylight to 3:30 you have to use the east lane. We rode first under and then up and on to the Golden Gate Bridge.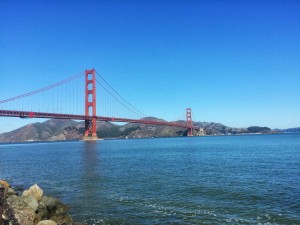 Photo: View of bridge from southern shore near Ft. Point.
After going across the bridge we went uphill and then a large downhill ride where we had to share the road with cars. This was on Alexander Ave to Sausalito. A city of just over 7000 people, Sausalito is known for its houseboat homes, it's wealthy and it's artistic people. We continued on along Richardson Bay, through Bothin Marsh Preserve on the Mill Valley Sausalito Path. We crossed east to a bridge that took us over Pickleweed Inlet to Hauke Park. From there we took Hamilton Drive under RT 101 Redwood Highway. We traveled on a side road parallel to the highway to Strawberry neighborhood and then on to Tiburon Blvd to our final destination, Tiburon. From there we took the ferry back across the bay to our start point.
The riding portion of the trip took about 2 hours and took us 21 miles. I'd rate this  4.5 Stars.
There are lots of options for biking in San Francisco including Mountain Biking and other off road options as well as miles and miles of paved bike/walking paths.
If you like to bike, I would recommend biking the Golden Gate Bridge! Here is the official San Francisco Bike Map: http://www.sfbike.org/download/map.pdf