Since I'm in the computer rental business, people often ask me 'what does it cost to rent a computer?' So before you ask, here is my best explanation.
The computer rental industry pool of computer hardware is not infinite. Just as any other good or service, computer rental equipment is subject to supply and demand pressures as well as many other factors that affect price.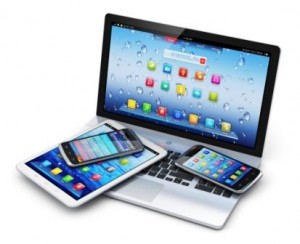 First lets define what the industry defines as a 'computer'.
The term 'computer' includes network servers, desktop, laptop, and mobile devices such as tablets and iPads and smartphones such as the iPhone, Windows Phone and Android Phones.
Below are the major factors that influence the computer rental price.
1. Lead Time
2. Specifications
3. Length of time
4. Quantity needed
5. Delivery location
6. Availability
Computer rental prices vary based on lead time, computer specifications, how long you need the equipment, quantity, where the equipment will be located, and availability. Let's discuss each of these topics individually.
Lead Time
The price of a rental computer is the lowest when reserving the equipment many months in advance. As your event nears, the supply of equipment drops thus opening the door for a premium rate for the remaining inventory.
For example: You need 100 iPads in April of next year. The cost might be as little as $50 per unit today but as your event nears, the price increases slightly around three months out. At two months out the unit price may rise to $80. And during the month of the event the price could rise to $100 per unit or more.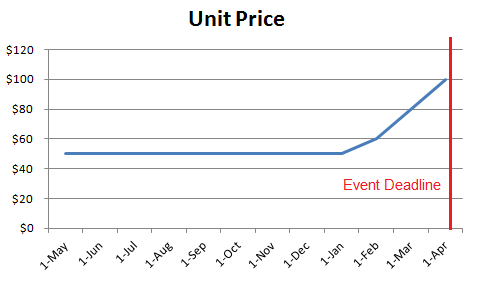 Quantity
The price depends upon the number of units rented. For example a laptop might cost $100 if you only rent one, however as 5 units are rented a price break is often possible. Then as the number of units rented continues to increase the price break becomes greater making a $65 per unit price possible for the largest quantity rented.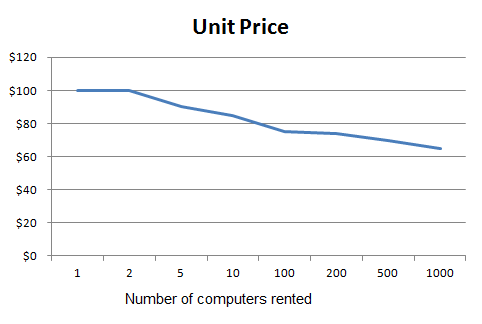 Length of Time – Daily, Weekly, Monthly and Quarterly Rates
Computer rental rates are based on daily, weekly monthly and quarterly rates. If we look at the rate per day as a measurement, the longer you rent the lower daily rate you will pay. For example a unit might cost $100 for a one day rental, $50 per day for a 2 day rental, $21 per day for a week rental, $12.50 per day for a two week rental, $7 per day for a 30 day rental and as little as $5 per day for a quarterly rental.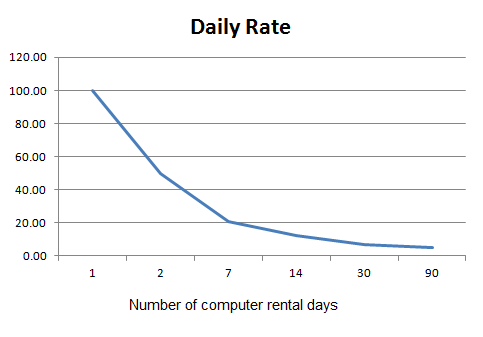 Delivery Location
Office Building, Shipping Dock or Convention Center
A shipping dock is the easiest and least expensive way to have your equipment delivered. Other deliveries include the cost of setup and testing on site. Convention center deliveries are the most expensive because of additional fees, drayage and time required to setup and at the end of the event, pickup. Delivering to a business address is a middle cost. Often business addresses have close-in parking and easy access to the delivery/installation area, that can lower the cost to deliver, install and pickup.  All costs are ballpark figures and can vary based on exact location and equipment load.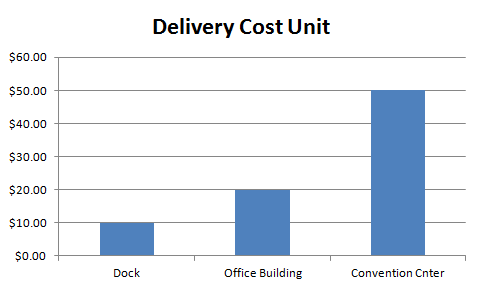 Specification
Higher computer specifications cost more to rent. For example: if you require advanced graphic cards, more ram, a different operating system or software installed, computer rental prices will be higher.
Also Apple Macintosh Computers typically rent for more than Microsoft Windows-based computers. iPads and tablets generally rent for less per unit than laptops and desktop computers. The example below is based on a single laptop computer before discounts.
Availability (Supply)
Rental Equipment is a Commodity subject to wild price swings.  Supply and demand issues come into play in the computer rental business in a big way. Supply is affected by the number of suppliers and total computer rental units in a given market area at a specific time. During low demand times, supplies rise and costs are the lowest. During peak demand times units can become costly or unavailable in certain quantities.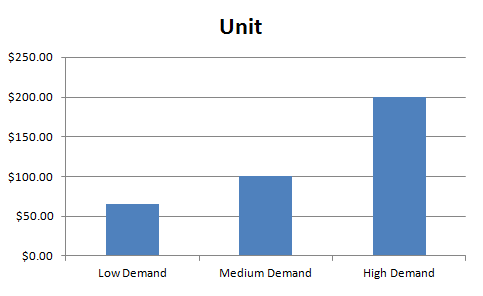 There are many more factors that influence the cost of a computer rental. Keeping in mind the 6 factors outlined in this post can help you understand the logic in computer rental pricing.
Note: All prices used in this example are hypothetical.