He stood tall since 2004. Then on June 14th a Monday night at about 11 pm, during a fast thunderstorm,  lightning struck the 60 foot statue causing it to catch on fire.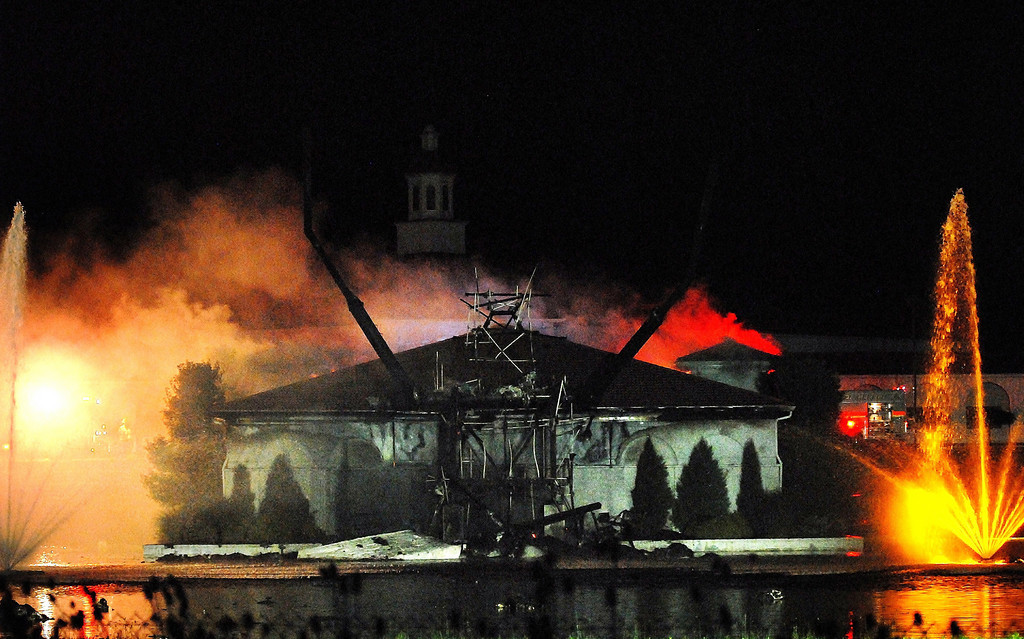 Photo by Vincent Rush
Some say this was a fitting end to a sacrilegious statue of Jesus Christ named the "King of Kings," but renamed by locals here as Touchdown Jesus and Big Butter Jesus, McDonald's Jesus.  Others, including the Solid Rock Church Pastor Darlene Bishop who proclaimed the statue made people 'remember Jesus or at least think about Jesus'.
Monroe Fire Chief Mark Neu said the fire spread to an amphitheater next to the statue but was confined to the attic area. Losses are estimated to be in the $700k range.  It was reported no one was injured in the fire.
Posting about the fire start on The Voice of Monroe at 11:30 PM titled "Solid Rock Church Jesus Destroyed by Lightning" by itbedave. The Voice is a discussion community featured on MainStreetMonroe.com, a website that I personally run.
Controversial Statue
There has been quite a controversy regarding the statue.
First of all, the Hornet Football team was partially to blame for the name 'Touchdown Jesus'. For years the Hornets had losing seasons. Sometimes horrible losing seasons. But the very season the "King of Kings' statue was completed, the Hornets won. The Hornets have had winning seasons ever sense.
Secondly, there are protesters who don't want the statue rebuilt because it violates the 'false idols' commandment. Here is a debate on The Voice: Should Jesus be Rebuilt?
Thirdly, there are people who see good in the work of the Bishops and their Solid Rock Church, the church own's the statue.  These people want some sort of tribute to Jesus back on display in the reflecting pond.
Lastly, it looks like the Bishops won't be inviting Brad Coriell back to remake the statue. Darlene Bishop was quoted as saying, "it's likely that there will be something different" than a 60 foot statue.
People like to PhotoShop Touchdown Jesus like the one below.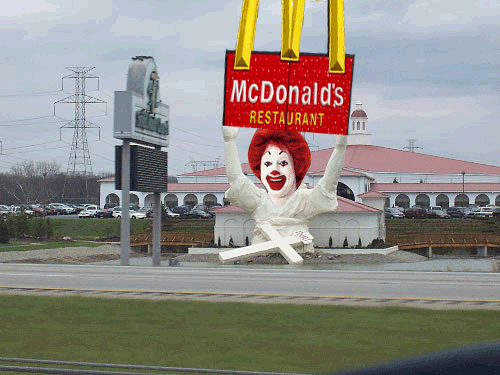 What will it be next, Jesus in the Manger? I can't wait to find out.